WordPress For Business – It ROCKS!
Post id: 6355
Using WordPress For Business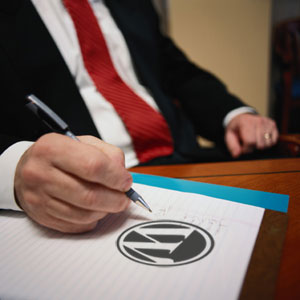 Many people who are new to website designing for their business, think that they need an expensive web designer, or program like Dreamweaver to create a fashionable, functional, and full-featured website, but this is not true. WordPress often thought of as a blogging platform is really an open source software platform that enables you to build wonderful websites using wordpress for your business.
When using WordPress For Business you will enjoy a great support community full of people from all over the globe who can help answer questions that you might have. Additionally, right on the WordPress website are tutorial videos that can help you learn most of the basic functions of using WordPress as a full-featured Website designer. What makes all this even more amazing is that using WordPress For Business is free. Because WordPress is an open source software, you get to use it free. The license for WordPress is open ended and there are no restrictions about using WordPress For Business or personal reasons like with some other types of open source software.
You can use WordPress For Business to build dynamic:
Article Directories
Business Directories
Classified Ad Websites
Discussion Forum Websites
Ecommerce Websites
Fully-Featured Community Portals
Large Business Websites
Online Stores
Paid Membership Communities
Sales Pages
Small Business Brochure Websites
Social Networking Websites
Video Websites
Websites with any functionality
Truly, only your imagination can hold you back when it comes to using WordPress For Business. From landing pages, to sales pages, to opt in pages, to download pages, you can build them using WordPress For Business. Due to the fact that you can get both free and paid Themes, and both free and paid plugins to increase the functionality of a WordPress For Business website there isn't much that can't be done with WordPress for your business.
If you already have an old fashioned HTML website or you're using a more complicated builder such as Dreamweaver, Drupal or other builders definitely take a look at using WordPress For Business. Most people who switch to WordPress find it very easy to use. It is intuitive and works the way you think it will work with hardly any knowledge at all. Where you need knowledge you can find people to help due to the diverse and growing WordPress For Business community. Additionally, if you wanted to outsource to someone it's easy to find people who can help you at almost any budget.
WordPress is the preferred option for building not just blogs, but fully functional, dynamic and easy to use websites for any purpose. The fact that WordPress is free just ads to the joy of using WordPress For Business. Instead of spending money on expensive software you can divert that money to other uses like MARKETING. Most of the time, when a business owner finds out that something is free they think that means "cheap" but no one would define WordPress as cheap.
Using WordPress For Business is the preferred website building tool among many business owners because it works. It is easy to update, has excellent built in SEO functions, and literally thousands of features due to the availability of paid and free extensions that add more to the functionality of your WordPress site.